Myofascial Pain Syndrome Treatment Course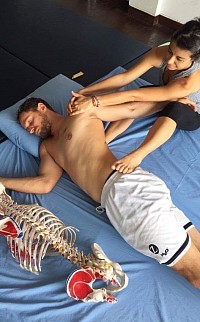 Combination of Thai Yoga Massage and Myofascial Release to realign posture
Myofascial Release and Stretching Course, creating movement for Dynamic Posture Correction
Our massage course about Myofascial Release will equip you with a comprehensive understanding of the specialized techniques needed to effectively massage aponeurotic fascia and epi fascia.

These structures are essential for the overall functionality and mobility of the human body. Our course will guide you through the appropriate techniques and benefits of massaging these areas, ensuring you deliver the best possible experience for your clients.

When targeting pain relief and posture correction, each fascia release requires a dedicated technique. In this course, you will learn how to apply myofascial release to maximize the benefits of stretching, resulting in enhanced mobility, reduced pain, improved posture, and increased dynamic postural stability.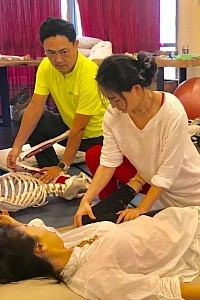 Students learn compression stretching for adductor muscles to improve hip joint movement
Improved Range of Motion - Stretching Techniques for Effective Pain Relief and Improved Mobility
The 2 other primary courses in our Posture Correction Program center on movement, in the case of Deep Tissue Massage, and pain relief, in the case of Trigger Points Therapy. The Myofascial Release course focuses on stretching and flexibility to improve mobility and general balance.

Our method of incorporating stretching in massage therapy goes beyond just improving the range of motion. We use gentle stretching techniques to identify the root cause of pain and adhesion in the muscle.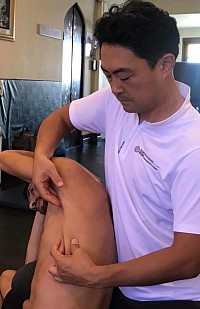 Myofascial release and stretching at latissimus dorsi
The importance of pre-stretching
By applying pre-stretching, we can pinpoint areas of tension or adhesion and use techniques such as myofascial release, trigger point, or deep tissue massage to address the issue.

This helps to avoid overstretching and strain. We also recognize that tension around joints can cause misalignment, and we use stretching to encourage proper alignment of the spine and other joints.
Trigger Point Therapy at Levator Scapulae to realign Posture
Different ways to treat the Epi fascia

Epifascia, also known as the superficial fascia, is a layer of connective tissue found beneath the skin. It contains adipose tissue, nerves, and blood vessels. Proper massage techniques for epi fascia include:

Skin Rolling: Gently pinch and lift the skin between your fingers, rolling it back and forth. This method helps stimulate circulation, release tension, and promote lymphatic drainage.
Effleurage: This technique uses long, gliding strokes to warm up the superficial fascia and improve circulation. It relaxes the client and prepares the area for deeper massage techniques.
... Among many other approaches we like to review with our students ...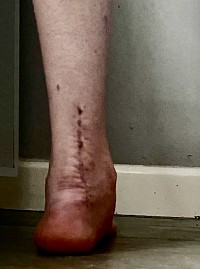 Learn how to use myofasial release for scar tissue
Pain Relief, Scar Tissue and Proprioception

Proprioception is key for balance and body awareness.
After serious injury, one's proprioception won't work properly. Assisted stretching and Myofascial release can enhance proprioception by improving connections between fascia, muscles, and nerves.

In the same way, Myofascial release combined with deep tissue massage also breaks up scar tissue, increasing joint range of motion, reducing pain, and promoting healing.
Myofascial Release and Assisted Stretching Course Students
Certificate and Career Opportunity
This class shows you how to use these techniques to effectively address posture correction and tailor them to the unique needs of your clients.

RSM's massage courses are designed for massage therapists, yoga practitioners and sports trainers with, at the very least, one month of such experience.

Course participants receive a diploma from RSM, which serves as a testament to their real interest in myofascial release and assisted stretching techniques, and their commitment to providing quality therapeutic care.

This certification not only enhances your professional credibility but also expands your career opportunities within the wellness industry.
Course Fee & Timetable
THB 6,900 Baht
(approx. EUR 190/ USD 200 / JPY 28,000)
• 5 Days Intensive Course from Monday to Friday
• The course starts on Monday at 10:00 am here in Chiang Mai
• Duration: 20 hours (18 hours + 2 hours of Review and examination)
Lessons & massage training 10:00-12:00 / 13:00-1500
After the lesson, students are invited to practice until 16:00
Course schedule 2023
2023 Schedule - Myofascial Release and Stretching Course 
24 July - 28 July 2023
14 August - 18 August 2023
04 September - 08 September 2023
25 September - 29 September 2023
16 October - 20 October 2023
06 November - 10 November 2023
27 November - 01 December 2023
18 December - 22 December 2023

2024 Schedule - Myofascial Release and Stretching Course 
08 January - 12 January 2024
29 January  - 02 February 2024
19 February - 23 February 2024
11 March - 15 March 2024
01 April - 05 April 2024

But each student is different, so we created optional courses:

This Myofascial Pain Syndrome Treatment Course is one of the 3 primary intensive classes we offer, over 5 days, from 10:00 to 15:00, for a total of 20 hours.

You may want to focus on specific knowledge and exercises to better take advantage of the other class we provide, which is why we created the evening courses:

- 2 hours, from 17:00 to 19:00
- In semi-private settings
- Covering   key topics.

Ask your coach, Hiro, to help you decide which evening course would be beneficial for you, if you need any.

In the same spirit, we also created a special Functional Anatomy Class that takes place over the weekend.