Questions & Course Application
All massage courses offered at RSM focus on pain relief and posture correction
RSM International Academy Application Form
Welcome to the RSM International Academy!

We are excited to have you join our specialized massage courses designed for pain relief, posture correction, and overall well-being. Our massage training courses are open to therapists, yoga teachers, sports trainers, and beginners who are passionate about enhancing their skills in the field of sports medicine massage.

If you are unsure about your current knowledge or ability to learn the RSM courses, we offer a Functional Anatomy Weekend Workshop. By participating in this workshop, you will find it easier to follow and comprehend our 3 main massage courses at RSM International Academy.

Please complete the application form below, and our team will get in touch with you shortly.
Our massage courses emphasize pain relief and postural correction, grounded in functional anatomy for more effective treatments.
Before reaching out via Line or WhatsApp, please review our course details, including concept, pricing, and start date. Whether you're a novice or an expert, share your background following our guidelines. This helps us guide you accurately and prevents misunderstandings. Every detail matters in directing you to the right choice.

Full Name:      
Date of Birth:     
Email Address:   
Phone Number:  
Country: 
Current Occupation: 
Years of Experience: 
Relevant Certifications (if any): 
RSM posture correction and pain relief massage training course
Please select the main course(s) you are interested in:
The backbone of our massage program comprises 3 main courses, Trigger Point Therapy,  Deep Tissue Massage and Myofascial Release, that you can take separately.


Our courses are tailored for individuals who are passionate about massage therapy and who seek to acquire advanced knowledge and skills in this field.

Our courses are designed for massage therapists, yoga instructors, and sports trainers, incorporating knowledge grounded in sports medicine principles.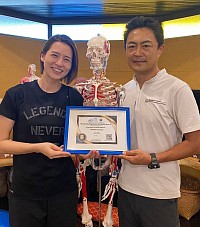 Achieve certification to enhance your career opportunities
Our Certificate and Career Opportunity
RSM's certificate reflects intensive training in pain relief and posture correction. It isn't tailored for specific country licensure.

If seeking a governmental license, check your nation's guidelines.

RSM's certificate is recognized by employers, emphasizing your dedication. It's ideal for massage therapists, yoga and pilates instructors, sports trainers, and professionals seeking advanced skills

Location and Map
RSM International Academy is located a 15-minute drive from Chiang Mai Airport, and a 20-minute walk from downtown. 

〒30/10-11 CHARUENSUK Road, Chang Peauk, Amphoe Mueang Chiang Mai, 50300 Chiang Mai
WhatsApp: +66985175990
(You can also use SMS, but calls are not appropriate as Hiro is teaching or practicing most of the day.)

If you're interested in booking a lesson or massage session with us, we kindly ask that you send us a message by WhatsApp. This will help us to keep track of your inquiry and respond to you promptly.