Deep Tissue Massage Course 
Students at RSM practice Deep Tissue Massage for pain relief and posture correction
Deep Tissue Massage Course: Inner muscle approach for Pain Relief and Posture Correction
Our Deep Tissue Massage Course focuses, like our two other main courses, on pain relief and posture correction. This particular course emphasizes movement improvement. Hiro will demonstrate and explain tools and techniques for dynamic posture correction which are particularly adapted to athletes, dancers, and yoga practitioners.
In this comprehensive program, students will learn techniques of palpation to effectively target deep layers of tense muscle tissue. Muscle tensions not only cause pain during movement, but also lead to compensatory movements, resulting in poor posture.
You will learn how to release pain and improve your clients' range of motion, ultimately contributing to better posture and overall performance. By the end of this massage training course, students will have gained key deep tissue massage techniques to significantly enhance their practice and provide lasting benefits for their clients.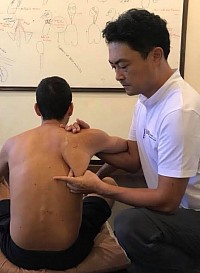 Deep Tissue Massage for pain relief and to improve scapulae up/down rotation
Pain Relief - Target the Deep Layer of Muscle
The "Deep Tissue" approach targets the deeper layers of muscles and connective tissues and introduces highly effective techniques for pain relief and posture correction.

In the class, we emphasize dedicated palpation techniques to locate, access, and treat the deep layers of the muscles.

Additionally, this course presents important principles of functional anatomy to better understand how to release tension in related muscles, and improve your clients' joint range of motion.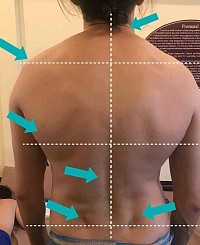 Postural Assesment
Posture Correction - Apply deep tissue massage to realign posture
A posture assessment is a valuable tool for massage therapists to understand the body's movement patterns and identify areas of tension, imbalance, or dysfunction. 

In RSM Massage Training, we teach our students effective postural assessment methods, and how to apply deep tissue massage for the goal of realigning unbalanced posture.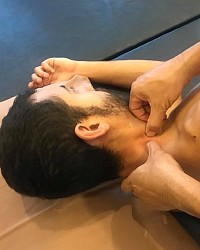 How to identify trigger points at scalene muscles
Advanced Pain Relief - Combination with Trigger Point Therapy
RSM combines deep tissue massage and trigger point therapy for pain relief and posture corrections.
You can explore the topic further in one of our other primary courses: Trigger Point Therapy, but you will also see in this workshop how to combine the 2 two approaches.

If Deep Tissue Massage targets deeper layers of muscle tissue to release chronic tension and improve posture, Trigger Point Therapy applies pressure to specific points in the body to promote healing. In combination, these 2 techniques deliver substantial results.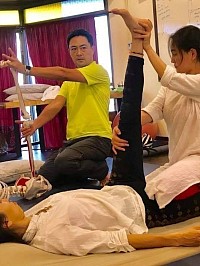 Students learn how to stretch to identify the muscle tension
Improved Range of Motion - Combining Myofascial Release with Assisted Stretching
Another rich combination of deep tissue massages are Myofascial Release and Assisted Stretching. These techniques work together to release tension, improve mobility, and restore balance in the body.
Deep tissue massage targets deep layers of muscle tissue to break up adhesions and release chronic tension. Myofascial release applies gentle pressure to connective tissue to release tension and restore balance.

Assisted stretching improves flexibility, reduces muscle tension, and improves posture.

By creating customized treatment plans based on the client's needs, you can address a range of issues from chronic pain to postural imbalances.
Posture correction by improving the range of motion of the scapula
Learn how to define proper clients' massage positions
Our massage training emphasizes the importance of proper client positioning to maximize therapy benefits.

By learning effective positions, you can ensure client comfort and relaxation, allowing for deeper and more effective massage work. 
The proper positioning of the head, neck, spine, and limbs will allow you to access deeper layers of muscle. By understanding the intricate relationship between body positioning and deep tissue massage, you will be better equipped to tailor your approach to each client.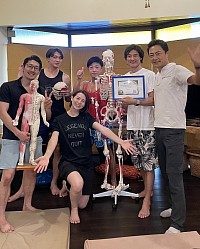 Deep Tissue Massage Course Students
Certificate
Course participants receive a diploma from RSM, which serves as a testament to their proficiency in specific deep tissue massage techniques and their commitment to providing quality therapeutic care.

This certification not only enhances your professional credibility but also expands your career opportunities within the wellness industry.
Course Fee & Time Table
THB 6,900
(approx. EUR 190/ USD 200 / JPY 28,000)
• 5 Days Intensive Course from Monday to Friday
• The course starts on Monday at 10:00 here in Chiang Mai
• Duration: 20 hours (18 hours + 2 hours of Review and examination)

Lessons & massage training 10:00-12:00 / 13:00-15:00
After the lesson, students are invited to practice until 16:00

Next starting dates for the Deep tissue course in Chiang Mai

2023 Schedule - Deep Tissue Massage Course 
17 July - 21 July 2023
07 August - 11 August 2023
28 August - 01 September 2023
18 September - 22 September 2023
09 October - 13 October 2023
30 October - 03 November 2023
20 November - 24 November 2023
11 December - 15 December 2023

2024 Schedule - Deep Tissue Massage Course 
02 January - 05 January 2024
22 January -  26 January 2024
12 February - 16 February 2024
04 March - 08 March 2024
25 March - 19 March 2024

What about the optional evening courses ?

Deep Tissue Massage training is one of the 3 main intensive courses we offer, each for 5 days, from 10:00 to 15:00, for a total of 20 hours.

But each student has different needs...
You may want to acquire specific knowledge and experience to fully take advantage of the training we provide, which is why we created the evening courses:
- 2 hours, from 17:00 to 19:00
- In semi-private settings
- Covering key topics

Hiro can help you decide which optional course would be beneficial for you.

Eligibility for the Deep Tissue Massage Course 
RSM's massage courses are designed for massage therapists, yoga practitioners and sports trainers with at least one month of such experience. Beginners are welcome, but if you are unsure about taking a course, we recommend taking RSM's Functional Anatomy Weekend Course first.