Trigger Point Therapy Course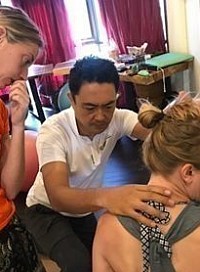 Trigger point therapy course at RSM
Understanding Trigger Points in pain management is an essential skill for massage therapists
Our trigger point therapy course provides practical training in massage therapy techniques, with a specific focus on identifying trigger points through palpation.
You'll learn how to perform targeted massage sessions that can help alleviate pain and tension, improve posture, and increase flexibility.
This course is suitable for both new and experienced massage therapists, yoga teacher and sports trainers who are interested in expanding their skills and knowledge. 


As a beginning or experienced practitioner, this course will provide you with practical techniques to offer efficient pain management and relief to your clients. We also see many advanced yoga instructors and sports trainers taking advantages of our course.


Palpation technique to find trigger point
Advanced Pain Relief - Learn special palpation techniques for both Active and Latent Trigger
Trigger points are small hypersensitive areas within the muscle tissue.
We usually discern 2 types of trigger points: 
• Latent trigger points, which can cause pain and discomfort with movement
• Active trigger points, which are already emitting pain.
These two types of trigger points require different palpation techniques.
Using our practical palpation technique, we teach you advanced trigger point release methods. By learning these skills, you can detect latent trigger points at an early stage and massage them before they become active trigger points and cause pain.

Learn how to palpate and massage an Active Trigger Point
Pain Relief - Learn palpation techniques for optimal outcomes
In RSM Massage Training Courses, we teach you how to use palpation techniques to locate and release both types of trigger points, including those located in the deeper layers of muscle tissue.

Palpation is an essential skill that allows massage therapists to identify areas of tension and restriction, which can be treated with specific techniques to alleviate pain and discomfort.

We emphasize the importance of using a combination of palpation techniques and functional anatomy knowledge to get a complete picture of the muscle tissue. Our course will provide you with the practical skills you need to address your client's pain.

If you want to go further in the direction of pain management and postural improvement, our comprehensive massage training also includes myofascial release, and deep tissue massages.
Trigger points can have a significant impact on posture
Posture Correction: Learn how to trigger the right points to have a significant impact

When a client presents poor posture, you know that it can be both the cause and the consequence of pain.

Professional massage therapists need to understand how to analyze postural imbalances and correct these issues.

In this Massage Training Course, we emphasize the importance of trigger point palpation and identifying surrounding muscle tension, as well as other contributing factors to poor posture.

By understanding the relationship between trigger points and muscle imbalances, you'll be able to provide your clients with effective massages and advice on how to reduce pain and facilitate general postural improvement.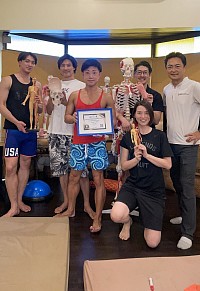 Personal trainers and body builders also come to RSM to learn trigger point therapy
Certificate and Career Opportunity
Course participants receive a diploma from RSM, which serves as a testament to their proficiency in trigger point therapy techniques and their commitment to providing quality therapeutic care.

This certification not only enhances your professional credibility but also expands your career opportunities within the wellness industry.
Course Fee and Timetable
THB 6,900 Baht
(approx. EUR 190/ USD 200 / JPY 28,000)
• 5 Day Intensive Course from Monday to Friday
• Course starts on Monday at 10:00am here in Chiang Mai
• Duration: 20 hours (18 hours + 2 hours of review and examination)

Lessons & massage training 10:00-12:00 / 13:00-15:00
After the lesson, students are invited to practice until 16:00

Upcoming starting dates for the Trigger Point Therapy course in Chiang Mai

2023 Schedule - Trigger Point Therapy Course 
10 July - 14 July 2023
31 July - 4 August 2023
21 August - 25 Ausugt 2023
11 September - 15 September 2023
02 October - 06 October 2023
23 October - 27 October 2023
13 November - 17 November 2023
04 December - 08 December 2023
25 December - 29 December 2023

2024 Schedule - Trigger Point Therapy Course 
15 January - 19 January 2024
05 February - 09 February 2024
26 February - 01 March 2024
18 March - 22 March 2024
08 April - 12 April 2024  

What are the optional evening courses about ?

Our Trigger Point Therapy Training Program is one of the 3 main intensive courses, over 5 days, for a total of 20 hours. Courses take place from 10:00 to 15:00.

As with each patient, each student is also different. You may require specific knowledge and experience to fully take advantage of the training we provide. Which is why we created the evening courses:
- 2 hours, from 17:00 to 19:00
- In semi-private settings
- Covering key topics
Hiro will help you decide which optional course would be beneficial for you, if any.