Postural Correction Massage Course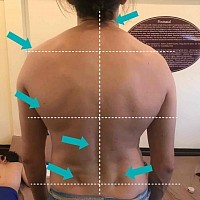 Posture assessment and palpation determine the direction of the postural massage
Postural Correction Massage Course for Poor Posture
It is not by coincidence that Hiro and RSM offer this course:

Hiro created a much appreciated posture correction program for his patients in Chiang Mai, about which you can find all the details at: www.posturecorrection.studio

The RSM Posture Improvement Massage Course begins with a static postural diagnosis. Using palpation techniques, it evaluates muscle tension, pain, and the effect of skeletal structure on posture changes.

Since static postural assessments often fail to capture the fluid movement of joints, RSM emphasizes dynamic postural analysis. Observing treadmill walking patterns and dynamic posture stability are examined to gain a deeper understanding of one's kinetic chain.

You will then learn how to tailor the massage to provide a proper treatment.
Throughout the course, the focus is on the practical application of skills gained in the RSM Functional Anatomy Course and the three primary massage courses. This hands-on approach ensures that participants can effectively apply the techniques learned in these foundational courses.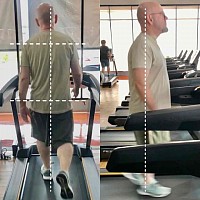 Dynamic postural stability assessment and palpation techniques to determine a programme that meets the client's needs
Dynamic Postural Stability Assessment 
In this massage training course, students learn to analyze an individual's walking posture by observing the kinetic chain, including pelvic and spinal movements, foot placement, stride length, and weight distribution. This diagnostic helps identify areas of muscle tension, pain, or postural imbalance, allowing the practitioner to tailor targeted massage therapy and exercise plans to increase overall postural alignment and stability. 
Students receive both theoretical and practical training in functional anatomy, the human body's center of gravity, and spinal motion. You will also learn how these elements work properly while walking.

In addition, postural alignment training is provided to recognize postural imbalances and deviations in an individual's walking pattern. This knowledge enables the creation and implementation of targeted massage plans to address any issues and improve overall physical health.
Myofascial release to improve adductor muscle movement
Apply your Massage Skills to Dynamic Postural Improvement
Once you have mastered conducting static and dynamic postural assessments, you will learn practical massage management methods tailored to your clients' needs.
You will acquire the skills to apply functional anatomy, trigger point therapy, deep tissue massage, myofascial release, and stretching techniques taught at RSM to enhance dynamic postural stability. Furthermore, you will learn to analyze and explain the changes that occur before and after a massage session, as clients are often interested in understanding the impact of the treatment provided.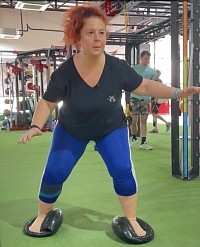 Posture Correction Exercise using Balance Ball DIsk
Learn Comprehensive Training Methods to Realign Posture 
Incorporating suitable training methods, alongside massage, is crucial for both static and dynamic postural improvement. Developing expertise in teaching targeted exercises and stretches for alleviating body pain and enhancing dynamic posture is essential for massage therapists, as it makes them more reliable practitioners for their clients.

This course equips you to become a well-rounded therapist, capable of instructing your clients in self-massage and posture improvement exercises, in addition to providing massage treatments.
Private Course Fee
THB 6,900
(approx. EUR 190/ USD 200)

You can choose 3 weekdays for 3-2 hours/day between 16:00 and 20:00

Usual total Duration: 8 hours (3h+3h+2h=3days)
Including Sports Gym Entrance Fee

Due to the advanced nature of this private course, it is intended for those with the right level of massage skills and experience only.
Eligibility for this Course