Applied YOGA Massage Course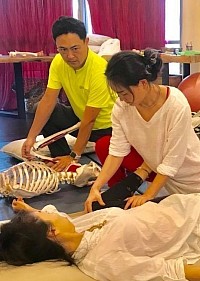 Compression stretching to improve hip range of motion
Applied YOGA Massage Course for Pain Relief and Postural Realignment 
The yoga massage taught at RSM focuses on a series of effective yoga postures designed to enhance flexibility, specifically targeting core muscles, hips, shoulders, and the spine.

The therapist chooses from techniques such as myofascial release, deep tissue massage, or trigger point therapy, based on the end-feel experienced at the limit of each joint's range of motion. This approach allows them to provide the most suitable massage for the client, which in turn improves joint mobility, particularly in the spine, elevating one's yoga practice.
In addition to the functional anatomy taught at RSM, a yoga-specific functional anatomy course offers a set of massages tailored to improving yoga postures.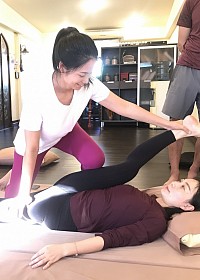 Yoga Teacher learns advanced Compression stretching to improve range of motion at hip joint
YOGA Specific Stretching 
In the yoga massage training course, you will learn a series of forms centered around yoga-specific stretches. This course teaches you techniques to expand joint range of motion based on your client's needs. These include gentle stretches that don't strain the joints, stretches focused on myofascial release, and stretches targeting specific muscle areas.
This course is designed as a series of routines that concentrate on strengthening yoga postures. By consistently delivering these routines to clients, you can help them significantly improve their yoga postures in just a few months.
Private Course Fee

THB 6,900
(approx. EUR 190/ USD 200 / JPY 28,000)

You can choose 3 weekdays for 3-2 hours/day between 16:00 and 20:00

Usual total Duration: 8 hours (3h+3h+2h=3days)
Including Sports Gym Entrance Fee

Due to the advanced nature of this private course, it is intended for those with the right level of massage skills and experience only.
Eligibility for this Course