YOGA Posture Correction Massage Course
Palpation techniques to understand where muscle tension is present in yoga postures
Learn Yoga Posture Assessment
Many yoga practitioners often perform poses with compensatory movements due to differences in joint range of motion between the left and right sides, as well as pain.
Specifically, training without addressing these compensatory movements and pain can lead to overall muscle imbalances and the development of unnecessary movement habits in the future. Dissatisfaction with one's movements may result in reduced mental focus, such as feeling negative about your body, potentially triggering future physical pain.
This course teaches you how to apply functional anatomy, trigger point therapy, deep tissue massage, myofascial release, and stretching techniques taught by RSM to correct your yoga postures. These techniques equip you with the essential knowledge and skills to become a more advanced yoga practitioner and a trusted yoga instructor.
Students practice Gluteus Maximus and outside Hamstring Stretching
Advanced Massage Techniques to Improve Yoga Posture
The yoga posture correction course begins with an assessment of yoga postures. Through a variety of yoga poses, the course identifies those that cause pain, exhibit compensatory movements, show limited joint range of motion, and display left-right differences in positioning.
The standard functional anatomy knowledge found in textbooks is not sufficient to teach yoga practitioners, especially as the range of joint motion varies significantly. In this course, you will learn practical yoga-specific functional anatomy and gain knowledge and techniques to further apply the three primary courses; trigger point therapy, deep tissue massage and myofascial release with stretching, offered by RSM to yoga posture correction.
In particular, deep tissue massage targets the deeper layer of muscle around joints to alleviate pain and improve posture alignment, enabling more advanced yoga positions. You will also learn specialized myofascial release and stretching techniques optimized for yoga posture improvement. This course is ideal for yoga teachers and those who experience difficulties with yoga posture.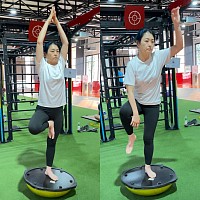 Identifying causes of postural instability by performing yoga positions on the Bosu Balance Ball
Comprehensive Methods to Improve YOGA Posture and Stability
To improve yoga postures, it is important to pay attention to the center of gravity, fluid movements during transitions between yoga poses, and the body's alignment created by the kinetic chain, in addition to using massage techniques for enhancement.
In this course, you will learn how to help clients achieve better yoga postures by practicing on unstable surfaces such as BOSU balance balls, which will help both you and your students make significant improvements in yoga practice. This course also offers alternative methods for training your clients to refine their yoga poses, resulting in you becoming a more polished yoga teacher.
Private Course Fee

THB 6,900
(approx. EUR 190/ USD 200)

You can choose 3 weekdays for 3-2 hours/day between 16:00 and 20:00

Usual total Duration: 8 hours (3h+3h+2h=3days)
Including Sports Gym Entrance Fee

Due to the advanced nature of this private course, it is intended for those with the right level of massage skills and experience only.
Eligibility for this Course